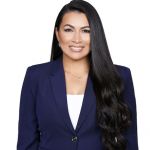 Cori Poirier
Real Estate Advisor
A little about me
Cori Poirier is a dedicated and energetic realtor born and raised in Southern California. As a True Local, Cori also attended the University of California, Irvine and graduated with a Double Bachelor's degree. Cori discovered her passion for real estate during a law firm internship, during her fourth year field study program.
Cori's desire to serve her community has derived from a sincere enjoyment of helping clients make tough decisions, a positive experience. Whether you are looking to buy for the first time, list your property, or purchase your next investment property via 1031 exchange, you will be impressed by Cori's professionalism and expertise.
Since joining the True Local Realty Group brokered by Compass, the team's resources and international outreach has maximized client experience and satisfaction. As market trends shift, Cori is always well versed on current market conditions. Whether it is in English or Spanish, Cori will be more than happy to assist you with your real estate needs.