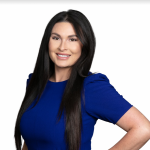 Jessica Yeremian
A little bit about me...
Jessica is a real estate agent with a passion for helping people find their dream home. With 10 years of experience in the industry, Jessica has developed a deep understanding of the local real estate market and a keen eye for finding properties that meet her clients' unique needs and preferences.
Whether you are a first-time homebuyer or a seasoned investor, Jessica is committed to providing you with the highest level of service and support throughout the buying or selling process. From helping you navigate the complexities of the market to negotiating the best possible deal, she will be there every step of the way to ensure that your experience is smooth and stress-free.
Jessica takes the time to get to know each of her clients on a personal level. By listening to your needs and concerns, she is able to tailor her approach to best serve your individual goals and priorities.
Jessica is a nature enthusiast who is passionate about where she calls home. Being a long time resident of the Lake Tahoe Basin she decided to make her way to Southern Califionia to experience the breathtaking and unique culture that San Diego County has to offer. When Jessica is not guiding her clients she is spending time with her family, taking road trips, camping and hitting the beach.

Whether you're looking to buy or sell a home, Jessica is here to help.