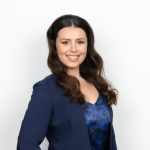 Madison Fray
A little bit about me...
Madison Fray, strong, intuitive, driven, and generous, is passionate about serving her community. She strives to make meaningful connections and understand the needs of every client to help create a dream life and legacy for them through their real estate goals.
Madison graduated from San Diego State University with a degree in Communication and Psychology. Prior to joining True Local Realty Group, she pioneered annual corporate conferences and tradeshows for a local San Diego SasS company.
Madison will guide you through the buying/selling process with a smooth and stress-free intention for her clients. This process is meant to be a beautiful transition, aligned with your vision. When working with Madison and the True Local team, clients will experience transparent and clear communication, honesty and integrity, effective negotiation skills and extensive knowledge of the local real estate market with decades of experience.
When Madison isn't serving her clients, you might find her teaching yoga, meditation and sound healing in Normal Heights, hiking or golfing in Torrey Pines La Jolla, or traveling with her family.