San Diego Real Estate Update – December 2019
What's your next move for 2020? With 2019 coming to a close, it's time to look into the market numbers to see what's ahead for the new year. In November, the Federal Reserve reduced its benchmark rate for the third time this year. This action was widely accepted by consumers and real estate professionals alike. Mortgage rates have remained steady this month, however while we are still down more than 1 percent from last year at this time, we can anticipate rates to lower even more in the upcoming months of 2020. Residential new construction activity continues to rise nationally.  The U.S. Commerce Department reports that new housing permits rose 5% in October to a new 12-year high of 1.46 million units.
While the overall economy remains strong, there are some signs that a downturn may be on the horizon…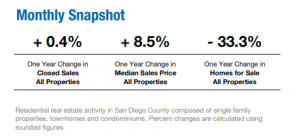 While the stock market continues to see gains, volatility remains as a result of ongoing on-and-off trade discussions with China and a market correction analysts are expecting. Historically low interest rates and robust job expansion continue to drive the housing market while inventory remains in short supply. New construction and more affordable housing are desperately needed. Aside from inventory concerns, trade disputes, an ongoing impeachment of the President, and the 2020 elections, all stand to impact markets. Stay tuned!
Here's what we saw last month: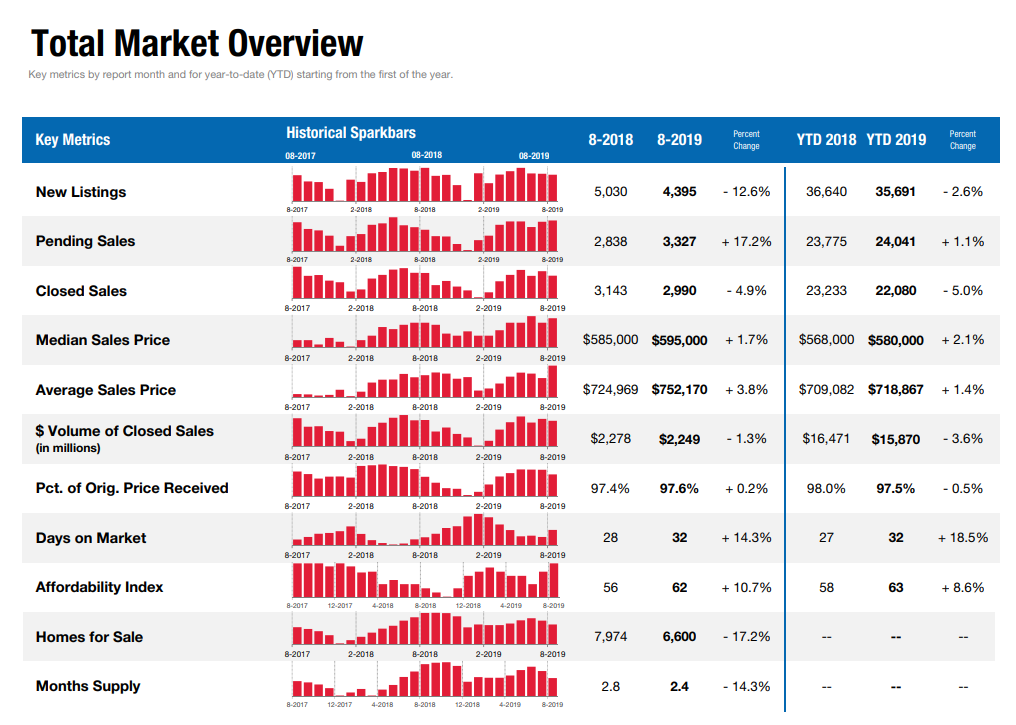 Buyers, take this opportunity to get a jump on your housing search. Less competition coupled with favorably low interest rates makes this season a prime opportunity to find your dream home AND for a great deal, too!  Advice for you this month is simply to stay active in your home search and be aggressive! Fortunately we can offer you access to not only all active listings in San Diego county, but also thousands of off-market homes not yet listed. Click below to search all homes available today!
Home inventory levels continue to decline – sellers, this is a prime opportunity for you to sell, but you MUST sell smart. What this means is you need to price your home right, make sure your home is in show-ready condition and do what you must to be that 'next-to-sell' home.  If your home is over 15 years old and in original condition, I highly recommend you look into doing basic remodeling and staging work. If the cost of remodeling or staging sounds too pricey, never fear, we will front the cost to get you more money for your home with shorter time on market!