November 2019 – San Diego Real Estate Update
As we begin the slower time of year for home sales, we are experiencing what we have historically understood to be a 'slow season' for home sales. This is reflected in the stats from last month, however what's unique about this year is the low mortgage rates. What does this mean for San Diego real estate?  Buyer demand will remain supported and in full swing with the assistance of low mortgage rates – we may even see an additional lift to home prices as excellent affordability gives buyers the ability to offer more to secure their dream home. Throughout much of the country, the continued low level of housing inventory also continues to constrain sales activity from where it would likely be in a balanced market. 

In October, mortgage rates increased slightly from the three-year lows seen in September. While the Federal Reserve reduced the federal-funds target rate by .25%, this decline was widely expected and largely factored into mortgage rates already, which are still approximately 1% lower than this time last year. Fannie Mae is predicting that continued low rates, and possibly lower rates are expected in 2020. All signs point to success in the housing market ahead!  
Here's what happened last month: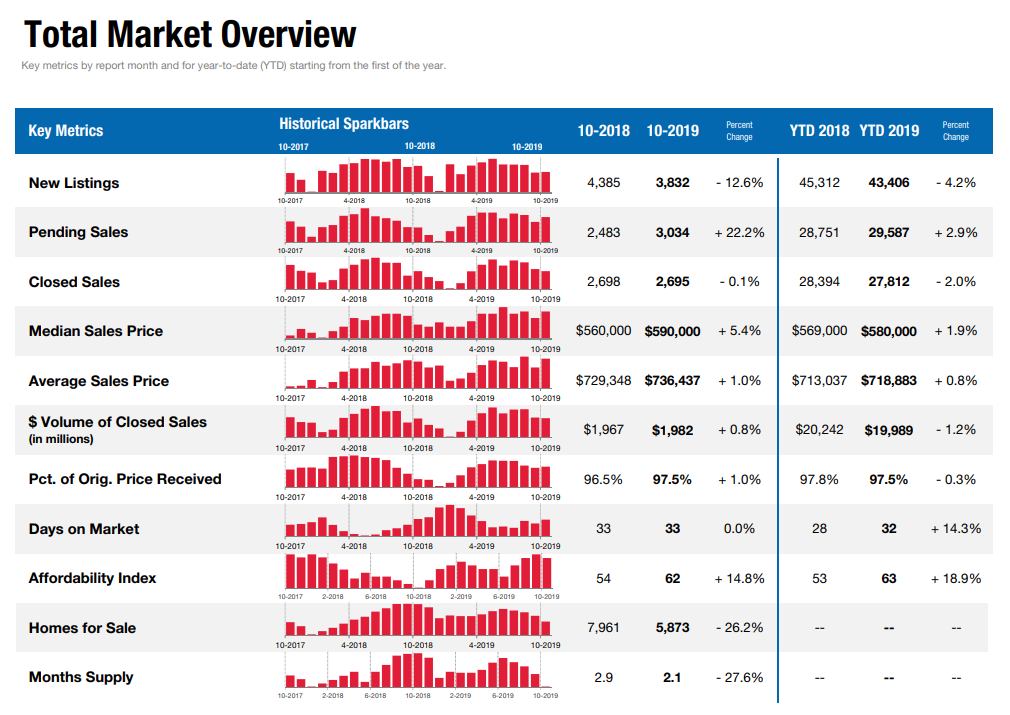 Buyer Advice:
As we mentioned above, we are heading into the holiday season which means a historically slower time for our housing market. Buyers, this is an opportunity for you – less competition coupled with favorably low interest rates makes this season a prime opportunity to find your dream home AND for a great deal, too!  Advice for you this month is simply to stay active in your home search and be aggressive! Fortunately we can offer you access to not only all active listings in San Diego county, but also thousands of off-market homes not yet listed. Click below to search all homes available today!
Seller Advice:
Home inventory levels continue to decline – sellers, this is a prime opportunity for you to sell, but you MUST sell smart. What this means is you need to price your home right, make sure your home is in show-ready condition and do what you must to be that 'next-to-sell' home.  If your home is over 15 years old and in original condition, I highly recommend you look into doing basic remodeling and staging work. If the cost of remodeling or staging sounds too pricey, never fear, we will front the cost to get you more money for your home with shorter time on market!