Housing Scares in San Diego?
October 2019 – Market Update
With ghouls and cobwebs hung from the trees and the weather cooling, the housing market begins its annual cooldown as well – but thankfully it's only Halloween that will bring scares to San Diego homeowners this year. On a national scale, buyer and seller activity remained strong, supported by low mortgage rates and a strong economy. Market indicators suggest no significant changes from recent trends, other than the seasonally tempered pace we see this time of year. As we move into the final three months of 2019, buyers will find fewer homes coming on the market, but also less competition for those homes.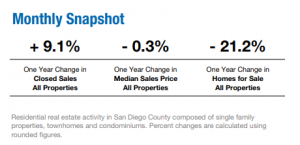 Closed Sales increased 10.3 percent for Detached homes and 6.6 percent for Attached homes. Pending Sales increased 21.0 percent for Detached homes and 7.4 percent for Attached homes. Inventory decreased 25.0 percent for Detached homes and 12.4 percent for Attached homes. The Median Sales Price was down 0.6 percent to $643,000 for Detached homes and 2.8 percent to $415,000 for Attached homes. Days on Market increased 3.2 percent for Detached homes and 3.7 percent for Attached homes. Supply decreased 25.8 percent for Detached homes and 8.0 percent for Attached homes.
In Washington there are discussions around a broad overhaul of the housing finance system, including the re-privatization of Fannie Mae and Freddie Mac and reforms to federal agencies involved with financing substantial portions of the mortgages made every year. Many of these policy conversations and eventual changes will take months or years to be implemented and their impact is not yet clear. While Halloween decorations are beginning to adorn homes around the country, the real estate market this fall is looking far from scary.
Here's what we saw last month:
BUYER ADVICE:
As we mentioned above, we are heading into the holiday season which means a historically slower time for our housing market. Buyers, this is an opportunity for you – less competition coupled with favorably low interest rates makes this season a prime opportunity to find your dream home AND for a great deal, too!  Advice for you this month is simply to stay active in your home search and be aggressive! Fortunately we can offer you access to not only all active listings in San Diego county, but also thousands of off-market homes not yet listed.
Click Here to start your search today!
SELLER ADVICE:
Home inventory levels continue to decline – sellers, this is a prime opportunity for you to sell, but you MUST sell smart. What this means is you need to price your home right, make sure your home is in show-ready condition and do what you must to be that 'next-to-sell' home.  If your home is over 15 years old and in original condition, I highly recommend you look into doing basic remodeling and staging work. If the cost of remodeling or staging sounds too pricey, never fear, we will front the cost to get you more money for your home with shorter time on market!
Click Here to Get a FREE Consultation with your True Local Expert today!