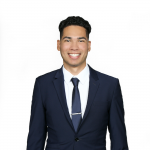 Roberto Corona
Real Estate Advisor
A little about me
Roberto Corona is a bilingual realtor who considers himself a true downtown San Diego local, as he has really immersed himself in downtown living for the past 5+ years. His knowledge of the real estate market and 10+ years of experience in providing exemplary client service, guide him in advising buyers and sellers through their individual needs.

Since joining True Local Realty Group, Roberto has been consistently engaging in continuous learning to be ready to provide the best experience to his clients. He is eager to build long-lasting relationships with his clients and advise them to the very best of his and the team's abilities, to help find them the home of their dreams.

Roberto grew up helping his dad flip single-family homes, gaining experience in renovating fixer-uppers, understanding the inspection process, finding properties that will bring great profit and more! He actively utilizes this experience while working with both buyers and sellers.

Roberto considers San Diego the best place to live; whether it is in the dynamic city, family friendly suburbs, or close to the waves, his goal is to guide you in finding your forever home through an enjoyable and unforgettable experience.
When he's not advising clients you will find him spending time with his wife and daughter, whether it is having brunch in a new local spot, hiking or relaxing at the beach, ultimately enjoying all the experiences San Diego has to offer.