SEA BREEZE VILLAS 
Another New Development SOLD by True Local Realty! Sea Breeze Villas consist of 4 Brand New 3 bedroom residencies located steps to the beach in the HEART of downtown Oceanside. These modernized villas have a private third-level 300+ SqFt rooftop deck that overlooks the boosting white-water ocean views.
THE SALES PROCESS
While this project was not an easy one, we were able to pre-sell all four units months before the development was completed. As a New Construction Realtor it's crucial to capitalize on marketing efforts and sales strategies early in the development process in order to maximize profitability. This is exactly what we did. We marketed Sea Breeze Villas with beautiful life-like renderings, a custom property website, and professional property video and virtual tour. Each unit sold for an average of $1.1M and we now have 4 happy home owners! Development is tough but we are here to make the process as smooth as possible.
If you ever have any questions at all… please reach out to us!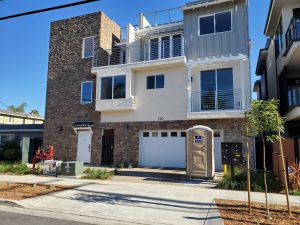 If you are thinking about buying or selling we would love to help!
Visit us at TrueLocalRealty.com
Or give us a call at 888-503-3117
We have Top Realtors in: Oceanside, Carlsbad, Encinitas, La Jolla, Pacific Beach, Ocean Beach, Cardiff, San Diego, Vista, San Marcos, Escondido and more.